Blog
Why Owning Ag Data is Different Than Other Property
By: Todd Janzen
Janzen Ag Law is a blog written by Todd Janzen, former Kansas farmer now practicing attorney located in Indiana and founder of the Janzen Agricultural Law firm (www.aglaw.us). Topics focus on the intersection of law, technology, and agriculture.  Todd's email is janzen@aglaw.us. He tweets from@JanzenLaw. His regular blog columns can also be found at http://www.aglaw.us/janzenaglaw/.
Jan 16, 2016
The concept of ag data "ownership" is not recognized by United States law.  Farmers like to say "I own my ag data."  Ag technology companies like to say "the farmer owns their data." And the industry representatives like to say "the farmer should own their data."  But the reality is that "ownership" is a legal principle that must be recognized by courts or a law, and that has not yet happened in the United States for ag data.
Ownership—the right of possession, use, control, and to exclude others of the same—has long been classified different ways in the United States depending on what type of property is being "owned."  We recognize at least three forms of property, and thus three things that can be owned.
Real Property.  Real property ownership was well recognized in the English common law.  In Sir William Blackstone's Commentaries of the Law (1765-1769), Blackstone noted that the laws concerning ownership of land, or "real property," were unique.  Courts in England granted an owner of real property a number of rights, such as the right to exclude others, and the right grant others a lesser estate (such as tenancy) in land.  US law followed the English common law, which is why we still use feudal terms like "landlord."   
Personal Property.  Blackstone also noted that English common law treated differently ownership of things, or "personal property." Personal property can be more easily transferred or shared than real property. These concepts helped English courts resolve legal ownership issues. For example, should a shed stay with the landlord when a lease ends or should the tenant be allowed to take it with him? The answer depends on whether it is "real" or "personal" property. Personal property is generally movable while real property is not.
Intellectual Property.  US law followed the common law's real and personal property distinctions, but Congress added another category of property to address ownership of intangible objects—so called "intellectual property" or "IP".  IP law is statutory and protects inventions (patents), creative works (copyrights), and trademarks.  IP law also protects trade secrets, such as the formula for Coca-Cola.  No laws that I am aware specifically recognize ag data as form of IP, although it may qualify for trade secret protection.
What does this mean for "ownership" of ag data?   As a form of property, ag data is a mix of real, personal, and intellectual property. Yield data, for example is information inextricably linked to the land, like real property.  Yield data is also highly portable, like personal property.  But it also contains valuable information, like intellectual property.  Those characteristics make ag data unique from other forms of property.  Farmers can own real, personal, and intellectual property, but ag data is hybrid of all three.   
Can we say the farmer owns his or her data?  Yes, if the farmer owns the field, the farmer owns the equipment that creates the data, and the farmer generates the data.  But when others are involved in creating that ag data form of property, ownership becomes a more difficult question.
If you hear about a court or legislative body addressing this issue, please let me know.  I can't wait to see how the issue is perceived.  
Portable Platform Scales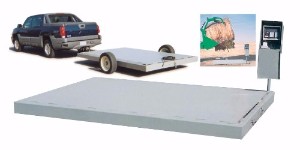 Central City Scale Portable Platform Scales measure 7' ½" or 8' ½" x 10' 8" with 50,000 lb. capacity. Available with a choice of digital indicators to fit your operation. Options include: detachable ramps, removable livestock racks, indicator stand, wheels and axles (removable), ball hitch assembly, remote display and weatherproof indicator box with printer.
New Portable Group Animal Scale for Weighing on Location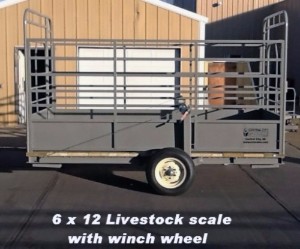 Weighing livestock on location is simple and convenient with the new Central City Scale 6' x 12' Portable Group Animal Scale. This portable scale consists of a wood plank floor and pen sides suspended on 30,000 lb. weigh bars within a portable steel I-beam frame. The fully retractable wheels allow for quick positioning and set up to save time. Dual gates help with safe, efficient traffic flow. This scale unit is equipped with the field-proven Avery Weigh-Tronix® 640 indicator that is simple to operate, yet accurate and reliable. Complete with hitch bar, power cords and racks, this CCS portable scale is built strong to hold up during the rigorous demands of weighing livestock on location.
Big Dog Scrapers Easily Handle Leveling, Grading or Lot Cleaning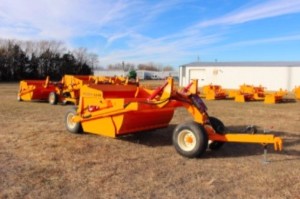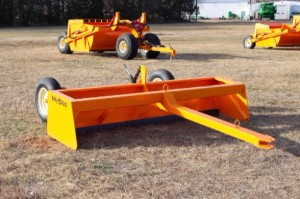 Big Dog Scrapers Easily Handle Leveling, Grading or Lot Cleaning
The Big Dog BH Series Movers/Scrapers and the BH-100 Feedlot Series offer the producer versatile earth moving capacity. Great for all types of leveling, finish grading and back filling applications for commercial feedlots, outdoor arenas, building sites, maintenance operations on farm and ranch roads or construction sites. The BH Series is available in 10' or 12' widths, is built solid with 3/8" end plates and has a dump height of up to 18". The BH-100 Feedlot Series is also available in both 10' or 12' widths. End plates are 1/2' thick and 41" in height. This unit allows up to a 24" dump height. Both the BH Series Movers/Scrapers and the BH-100 Feedlot Series work well with 75-100HP tractors, are equipped with 6" reversible blades and units can be adjusted to tilt right of left. For those larger capacity projects, Big Dog Forced Ejection Scrapers are available in 11, 8 and 6.5 yd. capacities and 7' or 7.5' width of cut for 160 to 240HP tractors. Call 308-946-3591 or visit us at www.ccscales.com or www.bigdogscrapers.com.
The link above is an interesting article from the National Geographic Channel website about tiny soil-dwelling bacteria that are making their way into technologies that could help feed the world. Hope you enjoy!
Click on the image above to learn about new technologies that are giving farmers a view of their crops they've had a hard time getting before: a glimpse underground.Using wireless technologies, growers are able to get up-to-the-minute information on how, when, and where crops are soaking up irrigation water.For farmers who rely on irrigation, the systems can mean big payoffs, not only in water savings but in chemicals and fertilizers, too. They can also mean stronger, healthier crops, with better harvests that can more than pay for the systems.
Published by David Frey of Tractor Supply Company
Image courtesy of PureSense
At Central City Scale, we know that not every wheat farmer has vast fields that continue to the horizon. That is why we look for articles like this one to help small-scale farmers be aware of the new equipment out there that can make harvesting faster and more efficient. Click on the image above to learn more! This article was previously posted by Fields of Seed.
At Central City Scale, the customer is our number one priority. Click on the image above to view some helpful safety tips from Maumee Valley Agriculture and Natural Resources to keep our customers safe during the upcoming harvesting season. Hope you enjoy!
Click on the image above to view the most current cattle market reports from Ag Center. Hope you enjoy!